Location:
Saint Paul, Minnesota
Status:
Permanently closed
Forepaugh's Restaurant was housed in a mansion situated on the western corner of Saint Paul's stately Irvine Park. The mansion was built in 1870 for 36-year-old Joseph Forepaugh and his family. After arriving in St. Paul in 1858, Forepaugh opened a dry goods store. J.L. Forepaugh and Company grew to become one of the largest stores of its kind in the upper midwest. The company was grossing more than half a million dollars in annual sales by 1865. After just ten years of work, Forepaugh retired.
The Irvine Park neighborhood began to lose its luster by the late 1880s. In 1886, Forepaugh auctioned off all of the elegant furnishings left in the home and sold the mansion. The family only took their personal belongings with them.
Forepaugh, his wife Mary, and their five children spent time in Europe. Newspaper reports suggest the trip was taken so Forepaugh could get help for depression, an illness that he struggled with most of his entire life. He returned to St. Paul with renewed energy and ready to take on the next phase of his life.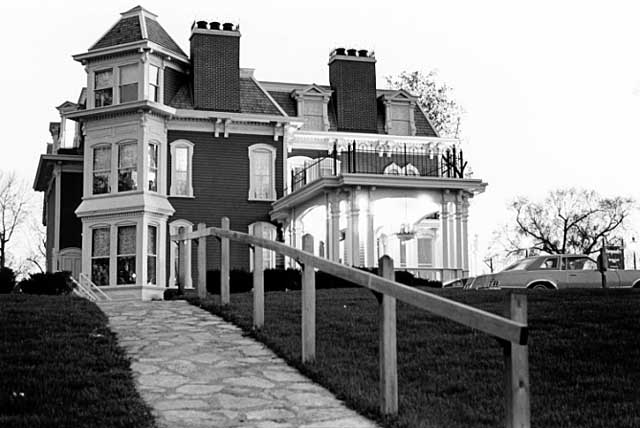 In 1889, construction began on a grand new home for the Forepaugh family at 302 Summit Avenue. The family moved into the new mansion in 1891. On July 8, 1892, Forepaugh's granddaughter saw him climb onto a streetcar on Selby Avenue traveling west. He was never seen alive again. His body was found two days later on Selby Avenue near Hamline. He died by suicide.
Civil War veteran General John Henry Hammond purchased the Irvine Park mansion from the Forepaughs in 1886. He lived in the home until his death in 1890. The mansion stayed in the Hammond family for many years. It was eventually divided into several units and used as a boarding house and low-income apartments until the 1970s. By 1972 was in such a state of disrepair that it was considered for demolition. Thankfully, a private company purchased it in 1976. They gutted the home and refurbished it into a restaurant.
In 2007, Bruce Taher purchased the restaurant and invested $2 million to renovate and reinvent the mansion restaurant into a white-tablecloth establishment. After 11 years of running the restaurant, Taher closed Forepaugh's in March 2019.

Seafood Crepes
Forepaugh's Restaurant in Saint Paul, Minnesota.
Ingredients
For crepes:

4

eggs

½

cup

half-and-half

½-¾

cup

flour

½

teaspoon

salt

For seafood stuffing:

1

small onion, diced

4

ounces

fresh mushrooms, diced (optional)

2

ounces

butter

8

ounces

cooked shrimp

4

ounces

cooked crab meat

6

ounces

cooked torsk or other white fish

¼

cup

flour

2

ounces

dry sherry

4

ounces

half-and-half
Instructions
Whip the eggs until foamy. Add half-and-half and salt and whip all ingredients until smooth.

Heat an 8-inch crepe pan. For each crepe, brush a thin film of oil into the pan. Pour in enough batter to just cover the bottom of the pan. Tilt the pan in a circular motion until the batter will no longer coat the sides of the pan. Leave on medium heat until the crepe looks dry; turn the crepe out upside down on a plate.

In a skillet, saute onions and mushrooms in butter until tender. Break the torsk into very small pieces. Add cooked seafood to the pan and saute until hot. Sprinkle flour over seafood and mix lightly until it becomes moistened with butter. Pour in sherry; sherry may ignite, but it will go out once the alcohol is burned out. Let the mixture come to a simmer. Pour on the half-and-half and mix briskly. Reduce heat and stir slowly until thickened. Cool.

Place 2 tablespoons of stuffing on each crepe and roll the crepe around it. Place crepes on a baking sheet with loose edge down. Brush with some melted butter and bake at 350° for 10 minutes or until crepes are brown on the edges.