Location:
Grand Marais, Minnesota
Dates active:
1929-present
Hidden away on the rugged shores of Lake Superior's North Shore, Naniboujou Lodge stands as a testament to the enduring allure of Minnesota's wilderness and the rich history that has unfolded within its walls. For over a century, this iconic lodge has been a cherished destination for nature enthusiasts, history buffs, and adventure seekers.
A Grand Vision
The lodge's history dates back to the early 20th century when a group of wealthy and influential individuals, including Babe Ruth and Jack Dempsey, came together with a shared passion for adventure and the north woods. They envisioned a destination that would celebrate the untouched beauty of Minnesota's North Shore while offering the comforts of a luxurious retreat.
They chose the name Naniboujou to pay homage to the Cree god of peace, playful tricks, and the Northwoods – traits that seem to be infused in the essence of the lodge and the untamed beauty of the area.
Replenish Body and Spirit in a Place Called Naniboujou
The lodge opened to members on July 7, 1929. They gathered to celebrate the lodge's unique blend of American Indian and Art Deco style. Members were in awe of the vibrant colors adorning the ceilings and walls of the lodge, which culminated in the dining room. There, they saw an enormous 30×80-foot room with elaborate Cree artwork painted by French artist Antoine Goufee on the ceiling, resembling the bottom of a canoe.
In its heyday, Naniboujou attracted celebrities, artists, and socialites seeking a secluded escape. However, the Great Depression hit many members hard, and the original vision of the Naniboujou Club was never fully realized. The club struggled financially, and after several attempts to reorganize and invigorate its membership, it was forced to close the lodge in 1935.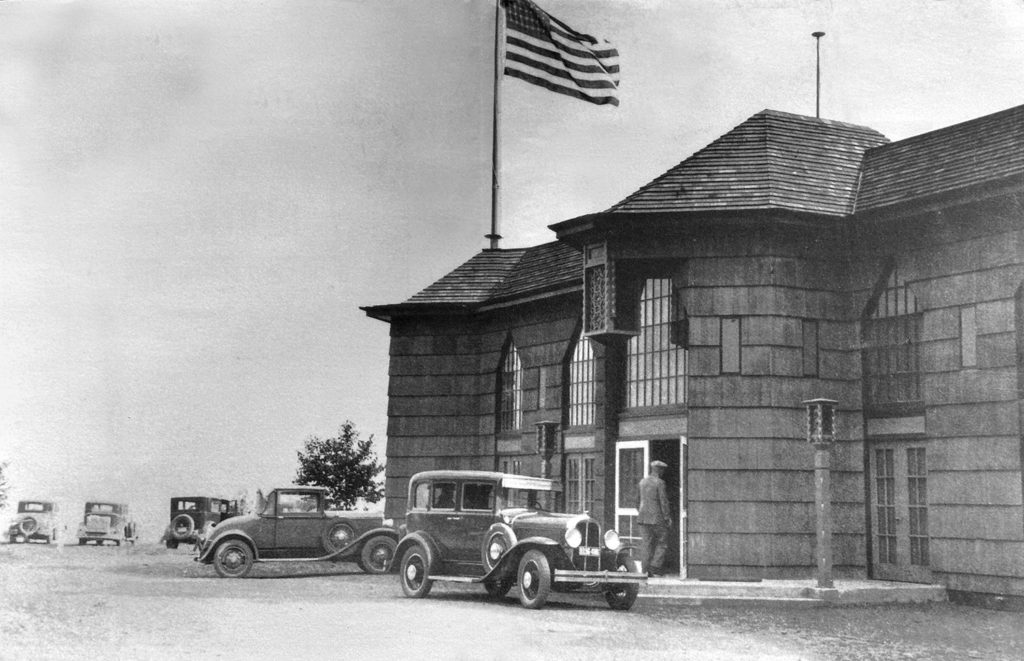 Preservation and Restoration
The 3,300-acre property was purchased by the Arthur Roberts hotel chain in 1939. They transformed the lodge into a destination hotel with family-friendly activities. After Arthur died in 1953, subsequent owners each added personal touches to the lodge. It gained a reputation for fine dining, rustic charm, and breathtaking natural surroundings that attracted visitors from far and wide. Countless memories have emerged from these owners, each adding to the lodge's lore.
In 1980, Nanjboujou Lodge became home to the Ramey family, who continue to operate the lodge today. Under their leadership, the solarium was added, local artists were hired to expand the hand-painted artwork, and they reconfigured the rooms to make them more comfortable for guests while meticulously preserving the lodge's unique character. They were also instrumental in placing Naniboujou Lodge on the National Register of Historic Places in 1982.
A Timeless Escape
Naniboujou Lodge's enduring charm lies in its architectural splendor and the sense of timelessness it imparts to visitors. It serves as a living reminder of a bygone era when people sought comfort and inspiration in the untamed wilderness of the north shore.
Today, Naniboujou Lodge continues to be a sanctuary for those seeking solace in nature and history. Its proximity to Lake Superior offers breathtaking views and access to outdoor adventures year-round, from hiking and canoeing in the summer to cross-country skiing and snowshoeing in the winter. The lodge's unique atmosphere, with its towering fireplace, hand-painted ceiling, and cozy accommodations, makes it a one-of-a-kind destination.
Three Bears Porridge
Served at Naniboujou Lodge in Grand Marais, Minnesota.
Ingredients
¾

cup

old-fashioned oats, uncooked

¼

cup

cracked wheat

½

teaspoon

cinnamon

⅛

teaspoon

salt

3

cups

milk

Topping:

4

tablespoons

butter

1

cup

brown sugar

1

teaspoon

vanilla

¼

teaspoon

salt

2

cups

old-fashioned oats

1

cup

currants (optional)
Instructions
In medium saucepan, combine the ¾ cup of old-fashioned oats, cracked wheat, cinnamon, salt, and milk. Slowly bring to a boil; immediately reduce to a simmer and cover. Cook approximately 8 to 10 minutes.

Meanwhile, prepare the topping. Preheat oven to 325°. In a small saucepan, melt the butter and add brown sugar, vanilla, and ¼ teaspoon of salt. Cook only until the sugar dissolves.

Put 2 cups of old-fashioned oats into a bowl and pour the hot sugar mixture over. Mix well.

Spread onto an oiled cookie sheet. Bake 10 minutes or until golden brown, stirring once.

Sprinkle ½ cup of topping mixture over each serving of hot porridge. Sprinkle with currants if desired.