Location:
Minneapolis, Minnesota
Status:
Permanently closed
When Woo Yee Sing arrived in San Francisco from China, his only dream was to build a successful business in America. He didn't count on the strong anti-Chinese sentiment sweeping up and down the west coast once the railroad was completed and Chinese labor was no longer needed. Not easily deterred, Woo Yee Sing moved to Minneapolis in 1880 and opened a laundry business and then an import shop. His brother Woo Du Sing joined him in 1883. The pair opened Canton Restaurant on Marquette Avenue S. It was the first Chinese restaurant in Minneapolis.
The brothers decided in 1903 to move the restaurant into a larger, second-floor space at 28 South Sixth Street. The new address came with a new name, Yuen Faung Low, meaning Cafe of Exotic Fragrances from Afar. Customers knew Woo Yee Sing as John, so when Minneapolitans found it challenging to remember the restaurant's name, they started calling it John's Place.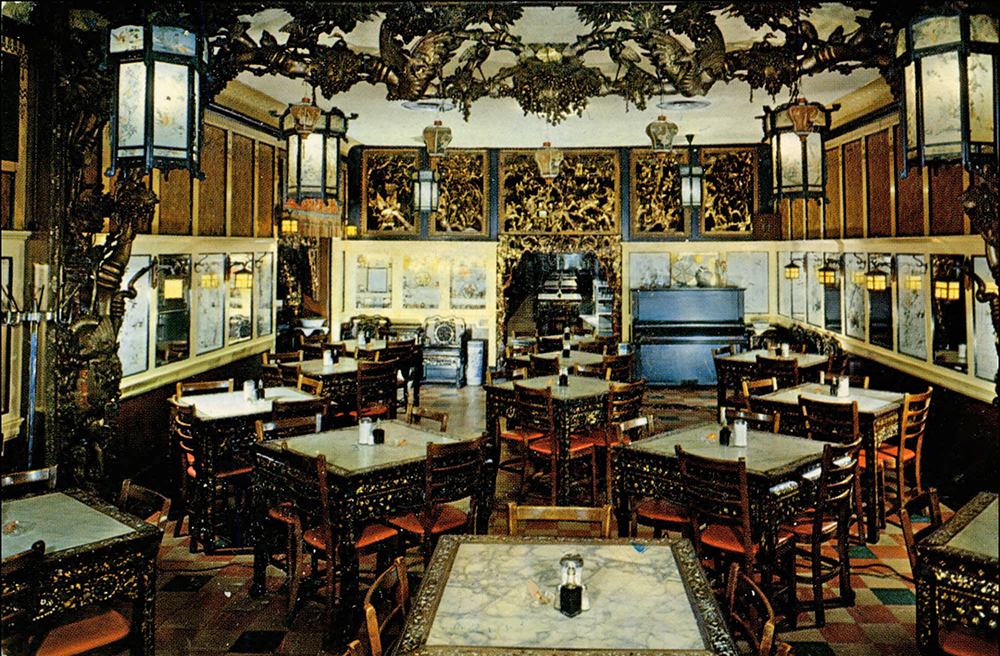 Entering An Exotic World
Diners entered through double doors from Sixth Street and climbed up a steep flight of 22 marble steps to the dining room. Once at the top, they entered a world many had never experienced. Glowing Chinese lanterns hung throughout the 250-seat dining room. Imported embroidered silk panels and camphor wood carvings decorated the walls. A rich, spicy fragrance hung in the air and mingled with the smell of the exotic food being prepared in the kitchen. Diners were seated at one of the restaurant's ornate teakwood tables acquired in the 1940s from another Chinese restaurant when it went out of business. Each had a decorative floral and bird motif, a mother-of-pearl inlay, and a marble top. The tables were so memorable that it's what many diners remember most about the restaurant. When their food arrived, it was served on authentic Chinese porcelain.
Although other Chinese restaurants opened in Minneapolis after John's Place, none had the right mix of exotic atmosphere and good food that the Woo brothers created. When the Nankin opened one block away in 1919, many wondered if Minneapolis could support two Chinese restaurants. It was the first real competitor John's Place had, and it would remain that way for decades. Both restaurants thrived in the city because of slight differences in how they prepared popular dishes and the atmosphere created by the owners.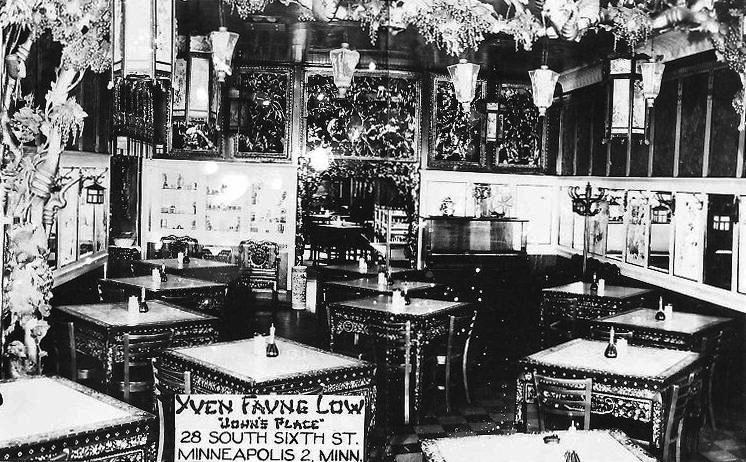 A Memorable Dining Experience
John's Place was often cited in travel guides as one of the top places for travelers to eat in Minneapolis. Duncan Hines included John's Place in nearly all editions of his guidebook, Adventures in Good Eating, as one of the author's favored restaurants in the city. It was also named one of the best restaurants in Gourmet Magazine's Guide to Good Eating. Newspapers reported that John's Place was also a favorite of Mae West (and her five bodyguards), Jack Benny, and Eddie Cantor.
After Woo Yee Sing died in 1925, followed by Woo Du Sing in 1933, their relatives took over the restaurant. They operated the restaurant together for another four decades. When the lease on their second-floor building space wasn't renewed in 1967, the family decided to close the restaurant.
Once news of the closing spread, diners clambered for a chance to eat at John's Place one last time. Family and former workers also stopped in for one last look at the place. For many customers, it was the end of an era. Many of them remembered eating at the restaurant as children and later brought their own children to eat at John's Place. It was part of the fabric of the city. To capture the nostalgia, many customers bid on items from the dining room, like the silk wall hangings and the ornate dining tables. Some of the items can still be found in people's homes across the state.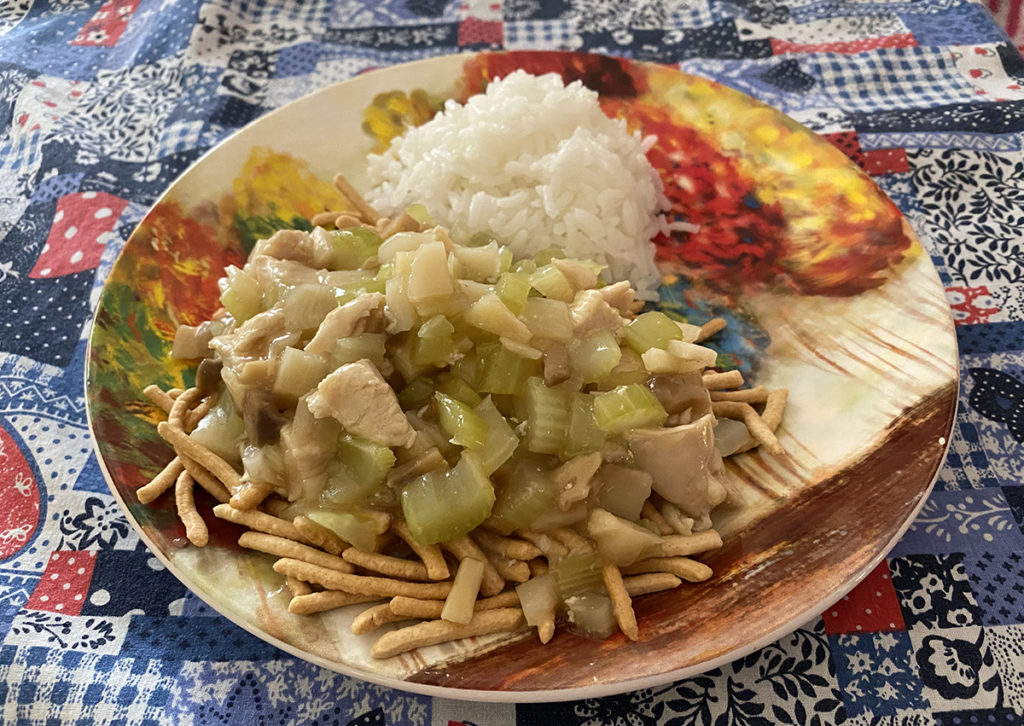 Chicken Subgum Chow Mein
John's Place in Minneapolis, Minnesota.
Ingredients
6

cups

celery (about 14-18 large stalks)

⅔

cup

button mushrooms

½

cup

bamboo tips

⅔

cup

whole water chestnuts

1

pound

white and dark meat chicken, skin and bones removed

Dice each ingredient above into pieces about ½-inch square and ⅓-inch thick and set aside on separate plates.

1

tablespoon

vegetable oil

1

tablespoon

rendered chicken fat

1

teaspoon

garlic, minced

4

cups

chicken stock

1½

tablespoons

cornstrach

1½

tablespoons

water

5-6

egg crepe strips

deep-fried egg noodles

steamed white rice
Instructions
Blanch the celery in a large pot of boiling water. Let the water return to a boil and cook until celery color begins to deepen, about one minute. Remove celery from water and plunge into a bowl of ice water to stop the cooking process and refresh the color. The celery will have a sweeter flavor than raw celery.

Heat a large skillet or wok over medium-high heat until hot and coat with the vegetable oil and then the chicken fat; add the garlic. Quickly stir-fry the garlic to flavor the oil, about 10 seconds, then add the chicken pieces and quickly stir-fry for 1 minute, until the chicken begins to color.

Add the blanched celery and mix with the chicken; then add the mushrooms, bamboo tips, and water chestnuts. Mix together and add the chicken stock. Quickly bring to a boil and reduce the heat to low. Simmer uncovered for about 15 minutes, until the celery is tender.

Push the ingredients to the edge of the pan, leaving a pool of broth in the middle. Mix the cornstarch and water together in a small bowl, then slowly add it to the liquid, stirring until it begins to thicken, about a minute. Then mix the thickened sauce into the rest of the ingredients and stir-fry until the sauce becomes clear and coats all of the ingredients. Remove from heat.

Serve on a plate over deep-fried egg noodles and top with egg crepe strips. Garnish with a scoop of steamed white rice at the side.
Egg Crepe Strips
John's Place in Minneapolis, Minnesota.
Ingredients
1

egg

¼

teaspoons

cornstarch

1

teaspoons

vegetable oil

dash

salt
Instructions
Combine egg, salt, and cornstarch in a bowl and beat well with a wire whisk. Do not make it frothy. Pour mixture through a fine strainer.

Heat an 8-inch nonstick skillet or crepe pan and lightly grease with vegetable oil. Pour half the egg mixture into the pan and immediately tilt the pan to swirl the mixture around to form a very thin crepe.

Cook over low heat for about a minute, until the egg is firm enough to turn over. Do not brown the crepe. Cook the other side for about 30 seconds and remove to a board or plate to cool.

Cut into strips about 1/4 inch wide and 2 inches long. Set aside. They will keep for several hours.