Location:
St. Louis Park, Minnesota
Status:
Permanently closed
The Ambassador Resort Motor Hotel was built on Wayzata Boulevard near Highway 100 in St. Louis Park. Constructing one of the first motor hotels outside of Minneapolis or St. Paul was the idea of Ole Husby and his two sons, Oscar and Joseph. They planned to provide a banquet and convention facility that could compete with the hotels in Minneapolis. They envisioned providing guests with luxury rooms, swimming pools, heated patios for year-round enjoyment, and themed dining rooms.
The Husby's three-phase plan cost an estimated $4 million. The first phase was completed in 1961 with the construction of an 82-unit motor hotel, a heated swimming pool, and four tropical dining rooms. It became the largest motel in the Twin Cities metropolitan area.
Guest rooms at the Ambassador featured a choice of Chinese, Colonial, Italian, or French decor. Each room had wall-to-wall carpet, individual heating and air conditioning controls, double beds, direct-dial phones, televisions, and free ice cubes.
The Indian-themed Kashmiri Room provided gourmet meals to guests. At the same time, the Shalimar Lounge and Mandalay Piano Bar offered after-hours fun with a lot of liquor, dancing, and dark corners for couples to canoodle. A 24-hour coffee house, the Camino Room, allowed visitors to grab a casual bite or caffeinated drink at any hour.
The grand opening of the Ambassador Motor Hotel was held on Sunday, April 9, 1961. General Manager Gilbert Swenberger invited the public to tour Minnesota's newest and most elegant motor hotel. Iona Pinto, Miss India of 1960, was flown in for the occasion to lend an exotic twist to the festivities.
Phase two of the hotel was completed in 1962. The expansion added nearly 100 guest rooms, a putting green, and the Hall of Kings — a banquet and convention space for up to 500 guests. However, this phase of construction also completed the most notable addition to the hotel when a dome was placed over the Ambassador's courtyard. The Kings Courtyard provided guests with an island-like vacation, 12 months of the year, in Minnesota. 
Advertisements for the Ambassador in its heyday touted its ability to control the weather — it was always summer at the Ambassador. Promotional materials showed groups of women dressed in bikinis and bathing suits showing off the amenities of the domed Kings Courtyard. The motor hotel boasted Minnesota's largest and most elaborate heated swimming pool, sauna baths, and hot tubs along with putting greens, shuffleboard courts, table tennis, and a sun lamp solarium. Guests could eat lunch at poolside tables and order tall, refreshing drinks delivered directly to their lounge chairs on the heated patio. Limousines were available to shuttle guests between the hotel and downtown Minneapolis or the airport. But why — as one newspaper asked — would you want to leave the island in the sun?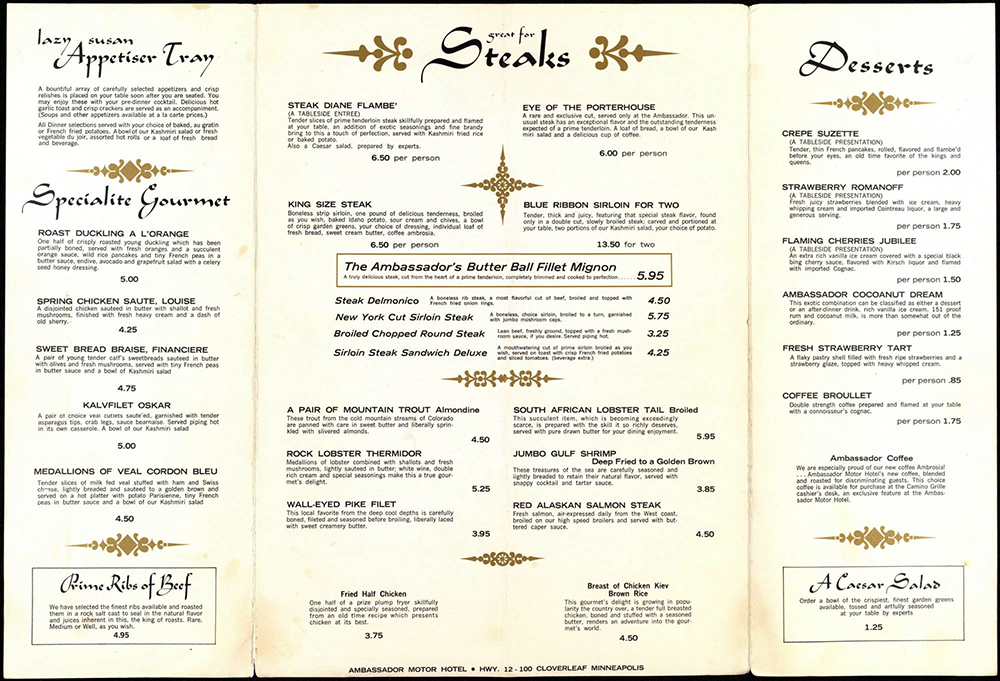 Unfortunately, phase three of the Ambassador building project never came to be. Phase two exhausted the owner's $4 million budget, so a planned six-story tower was never added. The tower was said to offer grand, panoramic views from each of its guest rooms.
By the 1980s, the Ambassador's sunny reputation began to fade. Occupancy rates had declined 20% by 1985, and another 10 percent by 1987. The hotel bounced between a handful of owners before the last owner defaulted on their bank loan. The construction of Interstate 394 is believed to have dealt the final blow to the motel. The last guest checked out of the Ambassador on March 25, 1991. Today, an Olive Garden sits where Minnesota's island in the sun once stood.

Kashmiri Room Pepper Steaks
Ambassador Hotel in St Louis Park, Minnesota.
Ingredients
½

cup

butter, melted

⅓

cup

oil

4

steaks

Course ground black pepper to taste

2

medium

tomatoes, quartered

2

medium

green peppers, cut into bite-sized pieces

1

medium

onion, cut into bite-sized pieces

½

cup

Burgundy wine

2

cups

brown sauce or rich gravy
Instructions
Heat butter and oil in a large saute pan until very hot.

Press black pepper into both sides of the steaks.

Place steaks into hot butter and place in a 400° oven. Roast until desired doneness, turning at three-minute intervals.

When done as desired, remove steaks from the oven and place them in separate serving dishes.

Pour off butter and oil. Place cut-up vegetables in the pan.

Pour wine into the pan and saute a few seconds, add brown sauce and bring to a boil.

Place two tomato pieces next to each steak. Pour sauce mixture over steaks proportionately. Serve immediately.