Location:
Hinckley, Minnesota
Status:
Permanently closed
Cassidy's Gold Pine Motor Inn and Restaurant opened in April 1964 off of the Hinckley exit on the newly constructed Interstate 35. The section of I-35 from Hinckley to Sandstone was the first segment of freeway that replaced the old road into Duluth and up the north shore. Fred Clark saw the new interstate that would eventually reach from Duluth to Texas as a boon for the town.
He closed the simple eatery he started in 1954 on Highway 61 downtown. Fred's vision was to create a fine tourist motel and restaurant right off the interstate that welcomed tourists to Hinckley. He was so sure that securing a property right off the freeway was the right move that he invested half a million dollars into the new motel and restaurant.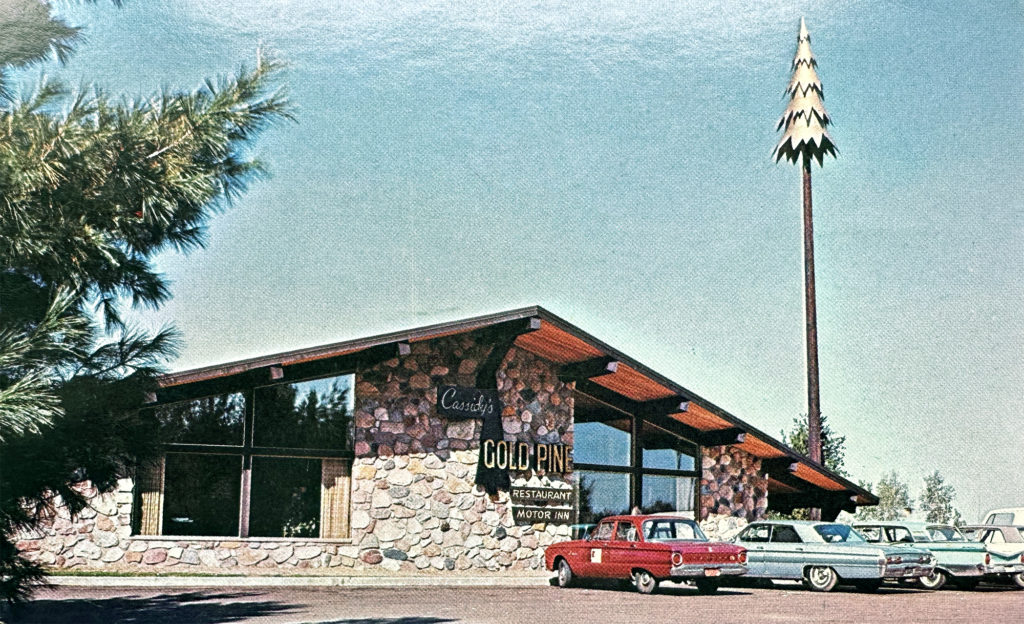 Cassidy's soon became a popular stop as people traveled "up north" and back home again. The motel was named "the freeway's first and finest motel and restaurant" in tourism campaigns and on billboards.
On New Year's Day, 1970, Willard Welcher and Edmund Winkler took over ownership of the restaurant. The duo purchased the eatery from Fred, who wanted to retire from the hospitality business. The restaurant served classic homemade comfort food and a variety of bread made from recipes passed down from Willard's grandmother.
Within a decade, Willard and his wife Sybil bought Edmund's share of the business. They made a few changes, including turning formal dining spaces into casual ones, adding a solarium, and introducing a salad bar to the menu.
The Welcher family operated the restaurant for 50 years. Locals and tourists alike were saddened to hear in 2020 that Cassidy's planned on closing. Many shared stories online about first dates, a break for warm food and warmer hospitality on snowy commutes, the delicious bread, first jobs, and more at Cassidy's after the owners announced the closure. Cassidy's Gold Pine served their last meal on August 27, 2020.

Wild Rice and Ground Beef Hotdish
Cassidy's Gold Pine in Hinckley, Minnesota.
Ingredients
½

pound

wild rice

1

pound

ground beef

1

cup

onions, diced

1

cup

celery, diced

1

cup

brown gravy

salt and pepper to taste

1

cup

cheese, grated
Instructions
Wash wild rice 3-4 times. Cover with cold water in saucepan. Add 1 tablespoon salt and bring to a boil. Cover and simmer on low. Do not overcook.

Saute onions and celery in a skillet with a small amount of butter. Add ground beef and brown. Skim off excess grease. Season with salt and pepper to taste.

Put all ingredients together along with brown gravy. Place in casserole dish and sprinkle with shredded cheese of your choice.

Bake at 300° for 30-45 minutes or until heated through.