Location:
Shoreview, Minnesota
Status:
Permanently closed
Joseph and Gertrude Kozlak opened Jax Cafe in Minneapolis in 1943. Their son Jack grew up working in the restaurant, and in 1977 he and his wife Ruth set out to open their own establishment with the knowledge he gained at Jax.
In 1977, the couple purchased the abandoned and derelict Sandpiper Restaurant property in Shoreview at auction. A grove of towering oak trees surrounding the property gave the restaurant its new name — Kozlak's Royal Oak Restaurant. Kozlak's offered fancy dining in the north metro and a place to celebrate special occasions for nearly 40 years.
After Jack Kozlak died in 2012, the ownership of the business was turned over to Lynn and Mark. Jack's estate put the building and land into a trust. Within a year of Jack's death, rumors started that the estate was negotiating with a developer to sell the land Kozlak's sat on. There was nothing Lynn and Mark could do to stop it. The couple arranged a deal to keep the restaurant open for a year after the deal closed. They hoped that would buy them time to find a new location for Kozlak's.
As 2014 grew closer, Lynn and Mark could see the writing on the wall. Kozlak's would close for good. The couple was unable to find a new property in a tight commercial real estate market (keep in mind that proceeds from the sale of the property went into the trust.)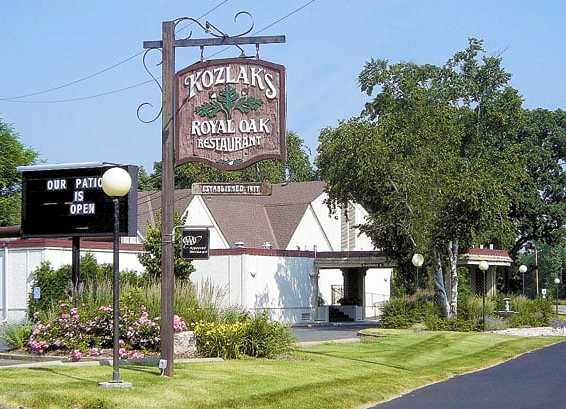 Once the closure was announced, many diners returned for one last meal and to say goodbye to the north metro's timeless eatery. Kozlak's served their final dinner on Saturday, March 15, 2014. The building was demolished to make way for senior apartments.

Jambalaya
Kozlak's Royal Oak Restaurant in Shoreview, Minnesota.
Ingredients
Seasoning mixture:

2

whole bay leaves

2

teaspoons

cayanne pepper

1½

teaspoons

salt

1½

teaspoons

white pepper

1

teaspoon

dried thyme leaves

½

teaspoon

black pepper

¼

teaspoon

sage

Jambalaya:

2

cups

butter

2

cups

ham, chopped

1

cup

andouille sausage, diced

2

cups

boneless chicken, cut up

1

cup

onion, chopped

1

cup

celery, chopped

1

cup

green pepper, chopped

1

tablespoon

garlic, minced

2½

cups

chicken stock

1

cup

tomatoes, peeled and chopped (canned is ok)

½

cup

canned tomato puree
Instructions
Combine ingredients for seasoning. Set aside.

Melt butter in a large saucepan over medium-high heat. Add ham and cook 2 minutes.

Add sausage and chicken. Brown for about 5 minutes, stirring frequently and scraping the pan bottom. Add seasoning mixture.

Stir in onion, celery, green pepper, and garlic. Cook for 5 minutes. Add stock, tomatoes, and puree. Reduce heat and simmer for about 45 minutes, stirring occasionally.

Remove bay leaves. Allow jambalaya to stand 5 minutes before serving. Serve with rice.