Location:
Saint Paul, Minnesota
Status:
Permanently closed
Polly's Slow Food served comfort food in Saint Paul for just over a decade. Owner Polly Sidney's restaurant was the antithesis of the fast-food joints crowding out independent, sit-down eateries across the country. Polly's Slow Food felt like you walked into a friend's home for tasty, homemade food in a wholesome atmosphere.
The Early Years
Polly's Slow Food first opened at 1589 S. Robert Street in 1979. The restaurant took over an old Texaco gas station and gave it a homey makeover. Cinnamon-colored wallpaper covered the walls, and vases filled with flowers were placed throughout the dining room to brighten the space. Polly and her father made the dining tables unique by collaging vintage postcards and old photos on the tops. It was then covered by thick plastic to make cleanup easy. Each collage featured a small photo of Polly — if customers could find it, they got a free slice of pie.
Polly designed the menu to give diners a break from the basic fast-food offerings that surrounded her restaurant. Classics like sandwiches, salads, and burgers were made to order based on the customer's preferences. But it was the made-from-scratch meat pies, pasta, soups, and desserts that created a group of devoted customers. Fresh lahvosh – a traditional Armenian flatbread – was served with meals.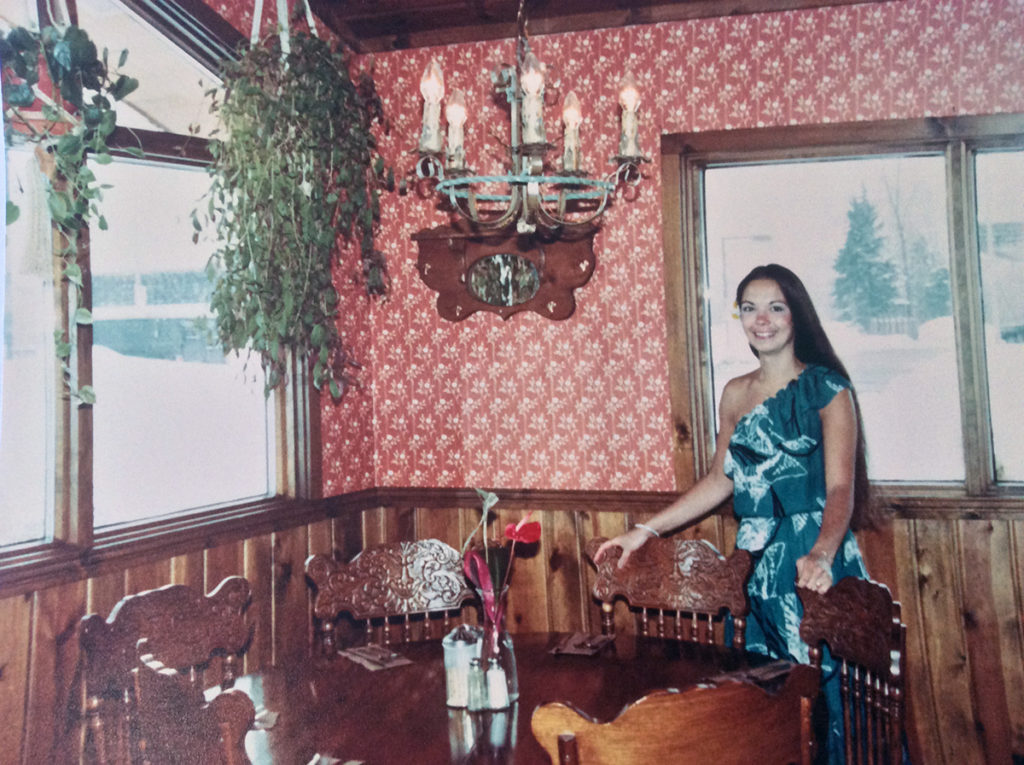 A New Location
Polly's needed a new place to call home within a couple of years. Around the same time, the former Northern Pacific Railway Company's Como Shops were being converted into an enclosed shopping center named Bandana Square.
Polly was the first tenant to sign a lease at Bandana Square in Saint Paul, giving her the pick of spaces. She chose a prime location with three rooms on the second floor. It had a view into the central part of the building with its original clerestory windows and timber trusses.
When the restaurant opened in its new location in November 1983, many loyal customers showed up to see Polly's new digs. It wasn't long before Polly's reputation for delicious, seasonal food grew a faithful following in Energy Park.
Polly's weekly menu featured seasonal ingredients. The only item on the menu every day was the wine cheese soup. Polly's mom, Ciel Bearth, was in charge of making the incredible pies offered each day. If one of Polly's avid customers had a request, Polly added it to the menu for the following week. She let the customer know which day it would be on the menu and asked them to return on that day.
Bandana Square Slumps, Polly's Closes
Other than Polly's, only a dozen or so shops and eateries had moved into Bandana Square in those early years. Polly's and another popular restaurant, Filbert's, were the main draw for the mall. By the end of the decade, the mall's retail space was still only a little over half full. Rent was too high and traffic was too low, forcing several tenants out of business within a year or two.
By the end of the 1980s, the Saint Paul Port Authority had taken over Bandana Square with the hopes of reimagining the mall into a success. For many tenants, redevelopment likely meant losing more money. Unfortunately, the uncertainty about what was to come caused several businesses to close their doors, including Polly's Slow Food.
After the closure, Polly directed operations and made wedding cakes for Buttercreme Desserts. Ciel joined her there creating desserts to be sold at Dayton's store restaurants. Sadly, Polly passed away in November 2022 after a prolonged illness.

Polly's Wine Cheese Soup
Polly's Slow Food in Saint Paul, Minnesota.
Ingredients
4

small carrots, thinly sliced

3

sticks celery, thinly sliced

1½

cups

chicken stock

3

tbsp.

butter

2

tbsp.

onions, chopped

¼

cup

flour

3

cups

hot chicken stock

1

cup

sharp cheddar cheese

1

can

(8.75 oz.) tomatoes, chopped

10

drops

hot sauce

⅛

tsp.

nutmeg

salt

¼

cup

dry white wine

1½

cups

whipping cream
Instructions
Simmer together the celery, carrots, and 1½ cups chicken stock until vegetables are soft.

Melt butter and sauté onions. Add flour, then slowly stir in hot broth. Cook until thickened.

Blend in cheese. Add tomatoes and undrained carrots and celery. Add seasonings and wine.

Stir in cream before serving.

Garnish with parsley or popcorn.