Location:
Minneapolis, Minnesota
Dates active:
1937-present
In 1937, Ray Schweigert opened a retail store specializing in fresh and cured meats and groceries at 34th and Bryant in North Minneapolis. He was committed to selling the tastiest high-quality meats, so word spread quickly around the city about the little shop. Schweigert purchased a delivery truck to deliver orders to customers' homes, but the demand for Schweigert products continued to outpace what the little store could deliver.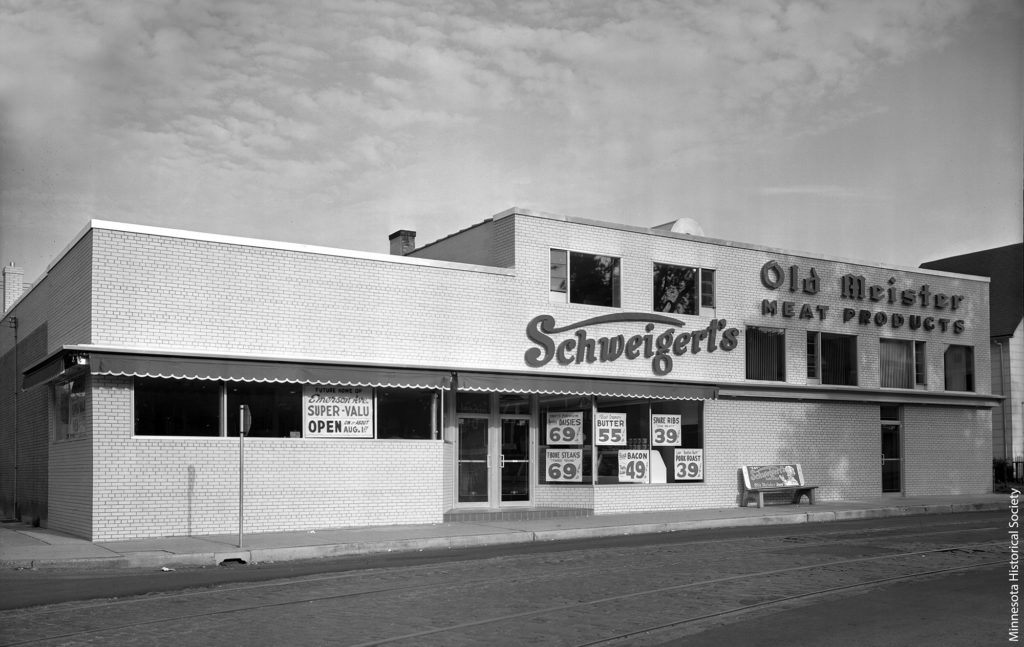 The business was thriving, and by the summer of 1940, Schweigert's had grown to be the top meat shop in the area. Schweigert decided to move to a larger location at 26th and Emerson. With this move, he added three more delivery trucks to service Minneapolis, St. Paul, and St. Cloud.
Schweigert's remained at that location for nearly 33 years and grew to include a fleet of more than 30 delivery trucks servicing Minnesota and parts of Iowa, Wisconsin, and North Dakota.
Ray Schweigert died in 1996. In 1983, the company moved to Albert Lea, eventually becoming a member of Cargill Meat Solutions.
Here's a fun fact about Ray Schweigert that you may not know: Before going into the meat business, he had a promising career as a violinist until a hand injury forced him to abandon a career in music.

Applesassy Sausage Links
Schweigert Meat Company in Minneapolis
Ingredients
50

tiny pork sausages

2

cups

applesauce

¼

cup

Red Hots candy
Instructions
Cut each sausage into bite-sized pieces and brown in a skillet.

Heat applesauce and candies in a saucepan until candies are dissolved, stirring frequently. Add sausages and stir to coat.

Serve warm using wooden picks for spearing links.